Hi everyone! I hope you all had the happiest Halloween–it's my favorite holiday! 🎃What did you dress up as this year? I decided to be an Elf Ranger and my fiance was a Warlock with a cute little crow familiar (we named him Kage which means "shadow" in Japanese). It's already a week after Halloween but I'm still not ready to give up the spooky season… 😦
Now that Halloween is officially over, many people have started thinking about what gifts to get their kawaii-obsessed friends for the holidays. Already stumped? Look no further than the adorable Hello Kitty Pop-Up Shop that opened last weekend at the Cost Plus World Market in Chelsea!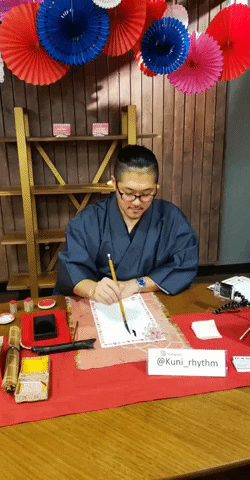 I'm so glad I had the chance to visit during their opening weekend, which was celebrated with exciting special events for customers. The first 100 people in the store on both Saturday and Sunday had their names written in hiragana by the talented calligrapher, @kuni_rhythm. He wrote my name so beautifully on special Hello Kitty paper! Now I just need to find a frame to hang this up in my apartment and stare at it forever.
Opening weekend customers also had the opportunity to have their picture taken with Hello Kitty herself. Just look at the adorable kimono-style dress she wore. So festive! ❤️
The theme for this Hello Kitty x World Market collaboration is "Omatsuri", which is "festival" in Japanese. The navy/red/white merchandise features our favorite Sanrio characters dressed in traditional Japanese festival clothing. I especially love the themed bento box and unique nesting doll set (below)–too cute! 🍡
The store itself is also decorated for the "Omatsuri" theme, with red paper lanterns hanging from the ceiling and festive faux cherry blossom trees brightening up the space. There are also adorable cutouts of Hello Kitty at traditional Japanese food stalls on the walls to make you feel like you're actually attending a matsuri! With the weather quickly getting colder here in NYC, it was nice to imagine myself at a festival in the blooming springtime for a couple of hours. 🌸
Of course, not all of the merchandise is "Omatsuri"-themed. In honor of the upcoming Christmas holiday, you can also buy Hello Kitty holiday products! 🎄Channel your inner Santa and haul gifts to your family using a "Joy to the World" tote bag, or show off your cookie-decorating skills with friends using this Holiday Cookie Kit. 🙂
I was pleasantly surprised by the sheer size of this pop-up shop, which is positively stuffed to the brim with cute Sanrio goodies. Of course, the majority of items are based on Hello Kitty herself, but many other characters are also represented, including Aggretsuko (my personal spirit animal), Gudetama, Keroppi, Badtz-Maru, and Chococat. The merchandise is reasonably priced and ranges from edible treats to beauty supplies, stationery, plushies, cookware, and much more. With such a wide selection, you're sure to find the perfect gifts for everyone on your list (and a few things for yourself, of course!). 🎁
My personal favorite find was the Hello Kitty-shaped pasta, olive oil, and tomato sauce. Pasta has been my favorite food FOREVER, so of course I had to get the ingredients for the most kawaii dinner of all time (if I can bring myself to actually eat them!).
This pop-up is open through December 24th, which is perfect for all of you procrastinators out there (myself included) who scramble last-minute to do their holiday shopping. 😉
If you can't make it out to Chelsea to visit this adorable pop-up in person (or you just don't want to deal with the hordes of holiday shoppers–no judgement here), don't fret! There's also a Hello Kitty x World Market collaboration online shop which can be found HERE.
Without further ado, feast your eyes on these photos of merchandise at the cutest pop-up shop in NYC! Anything in particular grabbed your attention? I'd love to know what adorable gifts are on your holiday shopping list this year! Until next time!
❤️Cat